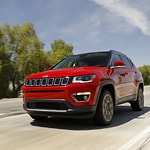 People go to the dealership looking for a vehicle that will catch their eye. The interior features are something else that people pay a lot of attention to. The Jeep Compass has all-weather features and refined features. This vehicle has a premium sound system. The Alpine premium sound system has nine speakers and a 506-watt amplifier.
You can enjoy your favorite tunes as you ride down the road. This feature also has dual-zone automatic temperature control. It is common for the driver and front-seat passenger to have different temperature preferences. The dual-zone automatic temperature control comes with two sets of temperature controls to make things convenient for both of you.
The two of you will be able to create your own microclimates in the car. You will be able to check out the interior features when you test drive the SUV. Make arrangements to come to our dealership to test drive the Jeep Compass today.