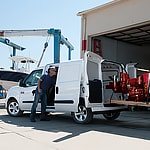 The Ram ProMaster City is a vehicle that can get 28 MPG. It has front-wheel drive. This vehicle will make it easy for you to get to where you need to go. There are also durability features that will allow you to enjoy your ride even longer. The vehicle has a class-exclusive nine-speed automatic transmission.
It will be a lot easier for you to go from launch to overdrive. You will also be able to use your Ram ProMaster City to tow your belongings. It has the ability to tow up to 2,000 pounds. It will be easy for you to transport the things that you need for work or play. You will even be able to tow a trailer with this vehicle.
You can try out the durability features when you test drive the vehicle. Come visit our dealership today if you would like to give the vehicle a try.